Fellowship Overview
Description
The HPB Surgical Oncology Fellowship at the University of Toronto is a 2-year clinical training program in HPB Surgery and Oncology offered by the Division of General Surgery and Department of Surgical Oncology at the University Health Network (Toronto General Hospital and Princess Margaret Cancer Centre) in the Department of Surgery at the University of Toronto.
It consists of a first clinical "core" year in HPB Surgery & transplantation followed by a second year in HPB Surgical Oncology and related research. The HPB Fellowship is offered to one individual every year.
This Fellowship operates within the Department of Surgery, University of Toronto and within the guidelines outlined in the Task Force on Clinical Fellows document.
The aim of the HPB Fellowship is to provide the trainee with the basic and clinical education and experience necessary to develop expertise in the understanding, diagnosis, and management (including the necessary surgical skills) in the treatment of diseases of the liver, biliary tract and pancreas. The emphasis on Surgical Oncology derives directly from the spectrum of clinical activity in the program, and our multidisciplinary approach to oncologic management. Clinical and/or translational research productivity is a vital component of the Fellowship.
The HPB Oncology program at the University Health Network (Toronto General Hospital and the Princess Margaret Cancer Centre) is the largest HPB Centre in Canada. As designated by Cancer Care Ontario, it is one of only 9 HPB centres in Ontario, a province of approximately 13.6 million people. With institutional annual surgical volumes of over 150 major liver resections and 100 major pancreatic resections, our HPB and Transplant Fellows are actively involved in this very high-volume HPB activity. The distinguishing features of our HPB center include the application of living-donor transplant techniques to complex HPB oncology with arterial and venous resections (following neoadjuvant protocols) for pancreatic and hepatic malignancies, laparoscopic major liver resections, and multidisciplinary cancer care for all malignancies, including transplantation for hepatocellular carcinoma and cholangiocarcinoma. Through integration with the Transplant Program, the HPB Fellow is also cross-trained in transplantation. At any one time there are 6 to 8 Fellows in HPB and Transplant Surgery making Toronto a large Fellowship program.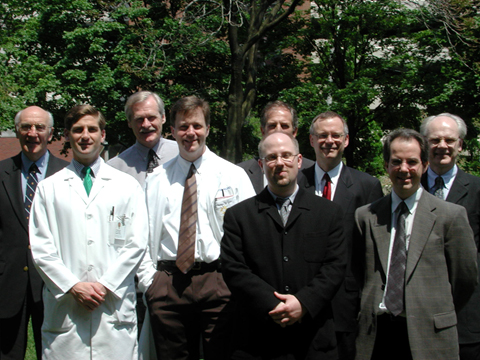 Transplant & HPB Fellows, 2002
Front Row: Chuck Vollmer, Ian McGilvary, Elijah Dixon
Back Row: Bernie Langer, Bryce Taylor, Steve Gallinger, David Grant, Mark Cattral, Paul Greig
The Fellows work with 9 HPB and Transplant staff surgeons. The HPB Surgical Oncology Program has 6 staff surgeons: Drs. Gallinger, McGilvray, Moulton, Reichman, Sapisochin and Shwaartz. The Transplant program has 4 staff surgeons: Drs. Cattral, Ghanekar, Sayed and Selzner. Drs. Reichman, McGilvray & Sapisochin are also transplant surgeons.
Fellows are expected to transition to independent operating during their Fellowship. It is anticipated that each Fellow should be capable of independent deceased donor procurement (liver, pancreas and kidney) by the 3rd or 4th month of the first year. Independence in performing major HPB procedures is expected by mid-second year.
The Role of the University of Toronto
Clinical fellows play a significant role in our healthcare system, and the University of Toronto is a leading institution in the training of clinical fellows. According to the most recent data of the Canadian Post MD Education Registry (CAPER), 68% of all the clinical fellows in Ontario and 47% of all the clinical fellows in Canada are registered at the University of Toronto. This share of the total provincial and national clinical fellowship enrolment has belonged to the University of Toronto since 2007.
Clinical fellowship education involves the participation of numerous, and varied, stakeholders. To ensure the widest possible understanding of the University of Toronto's role in the advanced postgraduate medical training of these doctors, the University has prepared concise documentation outlining the role of the University in Fellowship Training. This item is directly accessible via the following web link: http://pg.postmd.utoronto.ca/?ddownload=4004
Rotations
First Year
During the first year, the Transplant and HPB Fellowships are integrated and each Fellow does deceased donor and transplant procedures, elective HPB surgery and in-patient management, HPB & transplant clinics, and all transplant & HPB rounds, seminars and educational activities.
HPB Elective Surgery and Call
Three month rotations with one or two HPB staff for their clinics and elective surgery
Three month rotations on HPB in-patient service (Blue team), without donor or recipient call, responsible for HPB emergencies (CBD injuries, ruptured adenomas etc.)
Transplant Surgery and Call
Donor call: 1 in 5-6 throughout the year
Liver recipient and MOT ward call: 1 in 5-6 throughout the year
Pancreas/kidney call: 1 in 5-6 throughout the year
Throughout the first year the Fellow is responsible for the clinics and elective HPB surgery of her/his staff surgeons. Also note that Fellows' transplant call for donor, recipient, and MOT ward occurs throughout the year (usually 1 week for each, every month). This is in contra-distinction to a schedule of blocks (often 2-3 months) of pure donor call, liver call, pancreas call, and kidney call. This is to ensure optimal exposure to donors and recipients throughout the year and avoid the inequity of a first year Fellow being assigned to liver transplant during the first three months, vs the last three months of the year.
Transplant & HPB Fellows, 2006
Zoltan Mathe, Sean Cleary, Shimul Shah, Markus Selzner
Second Year
The second year provides in-depth training in HPB Surgical Oncology during which the second year Fellow focuses on more complex HPB procedures, and multidisciplinary oncologic care:
Transduodenal resection of the ampulla of Vater, with reconstruction
Klatskin-type resections
Arterial & venous resections and reconstructions
In-situ liver cooling resections with re-implantation
Laparoscopic HPB Procedures
Biliary injuries (post laparoscopic cholecystectomy
Medical & Radiation Oncology Clinics (3 months each)
The Fellow actively pursues one or more HPB oncologic-related research projects which are individualized to the Fellow's academic goals. They may be in the fields of translational research, or outcomes-based clinical epidemiology. The focus and staff supervisor for the second year projects will be determined during the first Fellowship year.
Curriculum & Didactic Teaching
Our HPB curriculum follows the Fellowship Council's Advanced GI Curriculum for Hepato-Pancreato-Biliary Surgery Fellowship. Fellows are required to contribute to the online myHPB cases discussions as proscribed by the AHPBA, and participate in the Monthy "HPB Grand Rounds video-conferences. The Toronto Video Atlas of Liver, Pancreas & Transplant Surgery has been developed specifically for Fellowship training. An extensive series of HPB and transplant cases has been developed for the Fellows integrating 3D reconstructions of anatomy, intraoperative videos and graphic overlays using a case-based teaching methodology. The Educational Objectives for the HPB Fellowship (in CanMeds format), as required by the Division of Postgraduate Medical Education of the Faculty of medicine, University of Toronto are provided in the letter of offer of HPB Fellowship to the successful applicant. The following regularly scheduled rounds, and conferences are held:
| Date | Frequency | Name | Mandatory |
| --- | --- | --- | --- |
| Monday 7-9am | weekly | Surgical Oncology Seminar Series |   |
| Monday 4:30-5:30pm | weekly | General Surgery Quality Rounds |  mandatory |
| Monday 6-8pm | monthly | HPB/Hepatology Faculty Club Series |   |
| Tuesday 8-9am | weekly | Live Liver Donor Review |   |
| Tuesday 4-5pm | weekly | Hepatoma Review Board |   |
| Tuesday 5-6pm | weekly | GI Tumour Review Board |   |
| Tuesday 6-9pm | quarterly | HPB Journal Club | mandatory |
| Wednesday 8-9am | weekly | Multi-Organ Transplant Rounds |   |
| Wednesday 5-6pm | monthly | HPB Video Conference Grand Rounds | mandatory |
| Thursday 7-8am | weekly | Fellows Transplant Rounds | mandatory |
| Thursday 4-5pm | monthly | Transplant Quality Review | mandatory |
| Thursday 4:30-5:30pm | monthly | Teach Residents at HPB Seminars | mandatory |
| Thursday 6-9pm | quarterly | Transplant Journal Club | mandatory |
| Friday 7:30-8:30am | weekly | University or Hospital – Wide Rounds |   |
| Friday 9-10am | weekly | Liver Transplant Listing Conference |   |
| Friday 10-11am | weekly | HPB Clinical Research Rounds | mandatory |
| Friday 11-12pm | weekly | Professor Rounds: Case Review | mandatory |
| Friday 12-1pm | weekly | HPB Tumor Board/Multidisciplinary Cancer Conference | mandatory |
The Toronto Video Atlas of Liver, Pancreas & Transplant Surgery (TVASurg)

The Toronto Video Atlas is an important component of our transplant curriculum. The website is designed to instruct surgeons in the care of patients with complex problems in liver, pancreas and transplant surgery, and highlight the advanced surgical techniques required for the management of these diseases. The curriculum and cases have been targeted to surgeons who have completed their training in General Surgery and are enrolled in Fellowship training in liver, pancreas and transplant surgery. In each case the discussion regarding the pre-operative planning is enhanced by 3D reconstructions of the patient's anatomy taken directly from the patient's imaging, and the intraoperative video images are augmented with graphic overlays and 3D reconstructions to re-orient the viewer appropriately. The Atlas continues to grow with one new case added to the website each month. The Transplant Section contains donor and recipient procedures for both adult and pediatric recipients. Click here for an example of a live donor liver transplant. The website is publicly available.
Invited Professors
The following Invited Professors have been made possible through generous donations to the Transplant & HPB Fellowship programs at the University of Toronto.
The Feeney Invited Professor
Dr. William Jarnagin (2014)
Professor of Surgery, Memorial Sloan Kettering Cancer Center; New York, New York
"The Enigma of Gall Bladder Cancer"
Dr. Elijah Dixon (2015)
Associate Professor, University of Calgary; Calgary, Alberta
"Clinical Trials & Tribulations"
Dr. Jen Jen Yeh (2017)
Associate Professor, University of North Carolina; Chapel Hill, North Carolina
"Deconstructing Pancreatic Cancer to Understand Tumour-Specific Signals"
Dr. Thomas A. Aloia (2018)
Associate Professor, M.D. Anderson Cancer Center; Huston, Texas
"Pursuit of the Perfect Hepatectomy"
The Charbonneau Invited Professor
Dr. Jean Nicolas Vauthey (2013)
Professor of Surgery, M.D. Anderson Cancer Center; Houston, Texas
"Colorectal Liver Metastases"
Dr. Rebecca Minter (2015)
Associate Professor, University of Michigan; Ann Arbor, Michigan
"Can I trust you to do my whipple?"
Dr. Alan Hemming (2017)
Professor of Surgery, University of California; San Diego, California
"Extending the Limits of Liver Surgery: Can this high-risk surgery be justified?"
Dr. Daniel Cherqui (2018)
Professor of Surgery, Université Paris Sud; Paris, France
"Laparoscopic Liver Surgery: How far have we reached?"
The Rogan Invited Professor
Dr. Robert Padbury (2013)
Professor of Surgery, University of Adelaide; Adelaide, Australia
"Quality in HPB Surgery"
Dr. Nicolas O'Rourke (2012)
Professor of Surgery, University of Queensland; Brisbane, Australia
"Laparoscopic HPB Surgery"
The Mummenhoff Invited Professor in Transplantation
Dr. Jean Emond (2009)
Professor of Surgery, Columbia University; New York, New York
"Organ Allocation"
Dr. John Roberts (2012)
Professor of Surgery, University of California; San Francisco, California
"Live Donor Liver Transplantation"
Dr. William Chapman (2016)
Professor of Surgery, Washington University; St. Louis, Missouri
"Development of an Organ Donor Recovery Center"
Dr. Lucas McCormack (2017)
Professor of Surgery, Universidad de Buenos Aires; Argentina
"Liver Transplantation for HCC in Argentina: How can we make it better?"
The John Palmer Lecture (University of Toronto)
Dr. Mike Choti (2012)
Professor of Surgery, Johns Hopkins School of Medicine; Baltimore, Maryland
"Image-Guided Liver Surgery: Current Status and Future Directions"
Dr. Tim Pawlik (2015)
Professor of Surgery, Johns Hopkins School of Medicine; Baltimore, Maryland
Dr. David Kooby (2016)
Professor of Surgery, Emory University School of Medicine; Atlanta, Georgia
"Minimally Invasive Pancreatic Resection: Where We Are and Where We Need to Go"
Dr. Dmitry Oleynikov (2018)
Professor Chief of GI/MIS, University of Nebraska; Lincoln, NE
"The Future of Surgery is Robots"
Dr. Dave R. Williams (2019)
MD, President and CEO, Exploration Incorporated; Montreal, QC
"Perspectives on Surgery and Spaceflight"